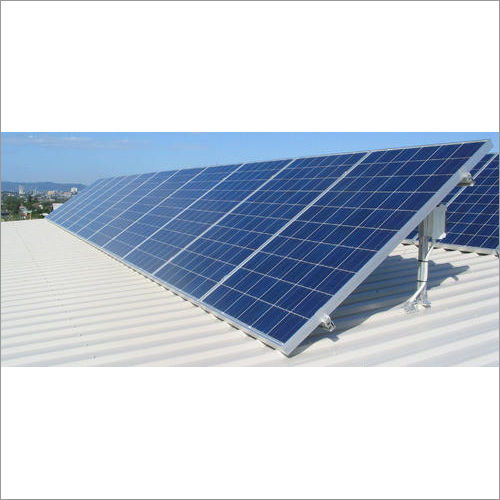 Solar Power Systems
Product Description
Solar Power Systems
Product Details:
| | |
| --- | --- |
| Plant Capacity | 5 KW, 10 KW, 25 KW, 100 KW, 1 MW |
| Annual Maintenance Contract | Yes |
| Type of Plant | Grid Tie, Off Grid, Hybrid |
| Brand | SGL |
| MNRE Approved | Yes |
| Operating Voltage | 12 V |
| Extended Warranty | Provided |
SOLAR POWER PLANTS
SYSTEMS OFFERED

ON GRID SYSTEM

OFF GRID SYSTEM

GRID TIE POWER PLANT
ON GRID SYSTEM
SGL Machinery Co. provides On Grid Solar Power System of the highest quality with MNRE approved components. We provide systems ranging from Small Roof Top Systems to Large Scale Commercial Systems. Solar PV System is a solar system that generates electricity and is connected to the utility grid. The main components are solar panels which are connected to one or more inverters. The electricity produced is a DC current which needs to be converted to AC through inverters. In case of an On Grid System, there are No batteries and the Excess Power produced is fed back to the Grid. No batteries make this system relatively cheaper and easier to install than the off grid system. A grid-connected photovoltaic power system will reduce the power bill as it is possible to sell surplus electricity produced to the local electricity supplier. Since the batteries are not involved there are no storage losses involved and it serves effective utilization of the generated power.
OFF GRID SYSTEM
SGL Machinery Co. provided Off Grid Solar Power System of highest quality with MNRE approved components. Off Grid Systems are not connected to a grid. An Off Grid System uses batteries to store DC electricity produced by the solar panels. This type of system fulfills the electricity requirements of the building/complex through an inverter which converts DC to AC, but it does not feed the grid with its excess power. It stores the power in the batteries for power back up. These systems are relatively expensive than the on grid systems but are ideal where power cuts are frequent.
GRID TIE POWER PLANT
Grid Tie Solar Power Plant, or grid-connected PV system is an electricity generating solar PV system that is connected to the utility grid. A grid-connected PV system consists of solar panels, one or several inverters, a power conditioning unit and grid connection equipment. They range from small residential and commercial rooftop systems to large utility-scale solar power stations. Unlike stand-alone power systems, a grid-connected system doesn't include a Battery Power Bank. When conditions are right, the grid-connected PV system supplies the excess power, beyond consumption by the connected load, to the utility grid

Contact Us
Plot No - 44, Sector-23A, Aditya Enclave, Dwarka, New Delhi, Delhi, 110075, India
Phone :+918037402615